He Donbas my Pripyat until I oblast
Gig dates for March 2022 [brought to you by So Long Pig]
I started a new job last week and did four gigs. I'm knackered.
Emboldened by my victory with that chat-up line video, I've made another video. Here is my most elaborate fake advert yet:
The product spokesperson is played by Marina Joy who will probably be famous in a couple of years.
My stand-up gig dates
These are what this newsletter is supposed to be about, theoretically.
If I made a calendar feed of all my gig dates - so you could just subscribe to it with your calendar app and have it updated automatically - would you use that? Do you even know what I'm on about? Let me know.
---
Tuesday March 1st 8pm - Comedy Lab UK, Hackney
Pay what you like, reserve a seat at https://www.eventbrite.com/e/comedy-lab-uk-tickets-230743398717
People's Park Tavern, 360 Victoria Park Road, London E9 7BT
---
Tuesday March 8th 7:30pm (doors 7pm) - Love Comedy, Old Street
Free tickets from https://www.designmynight.com/london/bars/shoreditch/loves-company/love-comedy-club-with-happy-hour-deals
Loves Company, Unit 1, Imperial Hall, 104-122 City Rd, London EC1V 2NR
---
Thursday March 10th 8pm (doors 7:30pm) - Quintessential Comedy, Camden
Free. This is a bringer, which means I must bring an audience member with me in order to perform. Get in touch if you want to come and see me.
https://www.facebook.com/events/249001987390534
Quinn's, 65 Kentish Town Road, London, NW1 8NY, United Kingdom
---
Sunday March 20th 3:30pm - G&B, Kings Cross
Free. The pub has started doing a nice Sunday roast. You can order that and have them bring it to you downstairs while you watch the comedy.
Star of Kings, 126 York Way, London N1 0AX
---
Tuesday March 29th 7pm - Gap Tooth, Pimlico
Intimate room above a nice pub. Always attracts good comics. Last time I did this, there were a couple of solid acts who were new to me.
Tickets £5 from: https://www.eventbrite.co.uk/e/gap-tooth-comedy-tuesdays-tickets-230002923937 - book in advance because there's not many seats.
Constitution pub, 42 Churton St, London SW1V 2LP
Fuck the joke police and their snitches
City Comedy Club has apparently banned a comedia based on his material and will be "working with the authorities on this matter".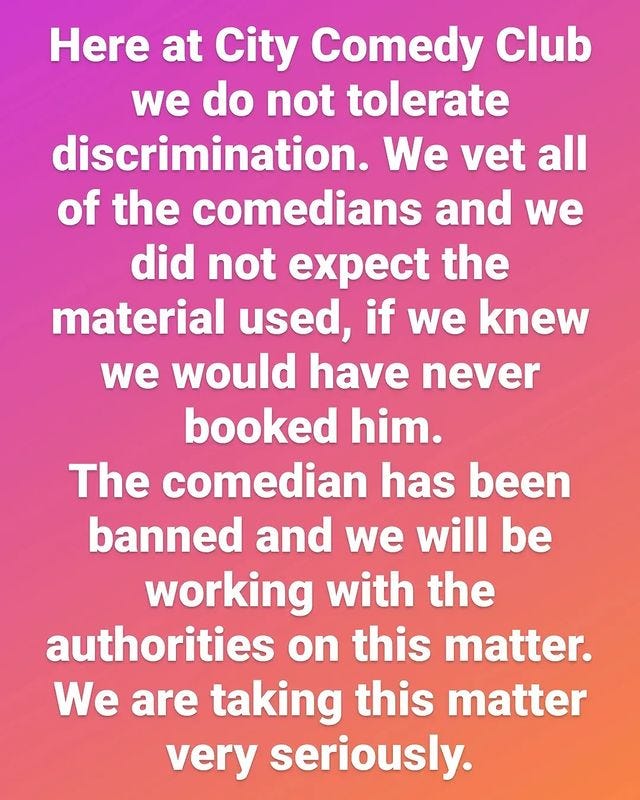 As usual with this brand of pseudo-left authoritarianism (or the successor ideology, or the illiberal left, or wokery, or whatever the fuck I am allowed to call it without being smeared as a right-winger), the accusation is vague and the reaction is hysterical. Basic prerequisites for justice like 'the presumption of innocence' or 'the right to face your accusers' don't apply in these social media kangaroo courts.
It seems from the comments that the accusation is that he said something transphobic.
But the club's semi-literate image post admits that it was down to his 'material', so presumably he has been banned and dobbed in to the pigs over something he said as a joke, rather than because he assaulted a trans person afterwards.
UPDATE: I haven't been able to verify this but apparently the joke was this:
As I suspected, it's not a hateful joke against trans people; the butt of the joke is the comedian.
FURTHER UPDATE: in the comments some people are claiming the problem is what was said to a patron… in the absence of specifics, there's no point speculating.
If you think it's OK to treat a stand-up joke - something ephemeral, a joke which the comic may have altered or invented completely off the cuff - as a manifesto, then fuck you.
If you're a comedian of any kind and you think it's OK for clubs to help the cops put your fellow comedians in jail, then fuck you. If you liked that Instagram post by City Comedy Club, or expressed support in the comments, or even worse demanded that the club 'do better', know that I see you, and you're my enemy now. You're happy to encourage police harrassment of other comedians because you're a coward who would never take any kind of creative risk yourself. You're a careerist who plans to gladhand and network your way to success because you know you're not very funny or original. You've effectively declared to the world that you'd happily put me in a police cell because of the kind of jokes I like and tell - so if I'm ever in a position to help you out in any way, don't hold your breath. To the limited extent that stand-up is an art form, you're an enemy of art. Fuck you.
If you're a comedy club that does this kind of thing - well, criticism or a boycott from a no-name like me who you wouldn't book anyway means nothing; nevertheless, fuck you.
Probably shouldn't write this newsletter when I'm sleep deprived.
Recommendations, unrecommendations and links
For paid subscribers only: my set at the G&B Dark Delights night. If you want to watch it to see if there's anything you can snitch about to the cops, you should at least give me £3.50 first.

I have been on the same bill as Horatio Gould a couple of times now, but only recently made the connection that he is the guy who makes hilarious TikToks making fun of 2000s TV formats along with Andrew Kirwan. They also have a podcast called Boys Gone Wild that I haven't got round to listening to yet.

To be honest, I have been too busy to watch or read anything I can recommend to you.

The stand-up in the second episode of The Marvelous Mrs. Maisel wasn't anywhere near as funny or realistic. Might have jumped the gun recommending that show.

That Trojan Horse podcast I recommended seems to have unfairly misrepresented Humanists UK. That's the trouble with these beautifully-produced documentary podcasts, there's always the risk that they are more concerned with telling a story, rather than telling the truth.
Solidarity with the people of Ukraine and all those brave enough to stand up to authoritarianism! Let a thousand sunflowers bloom from the corpses of our enemies!